Jews on First

March 9 @ 7:30 pm

-

9:30 pm
Event Details
March 9 @ 7:30 pm

-

9:30 pm
Jews on First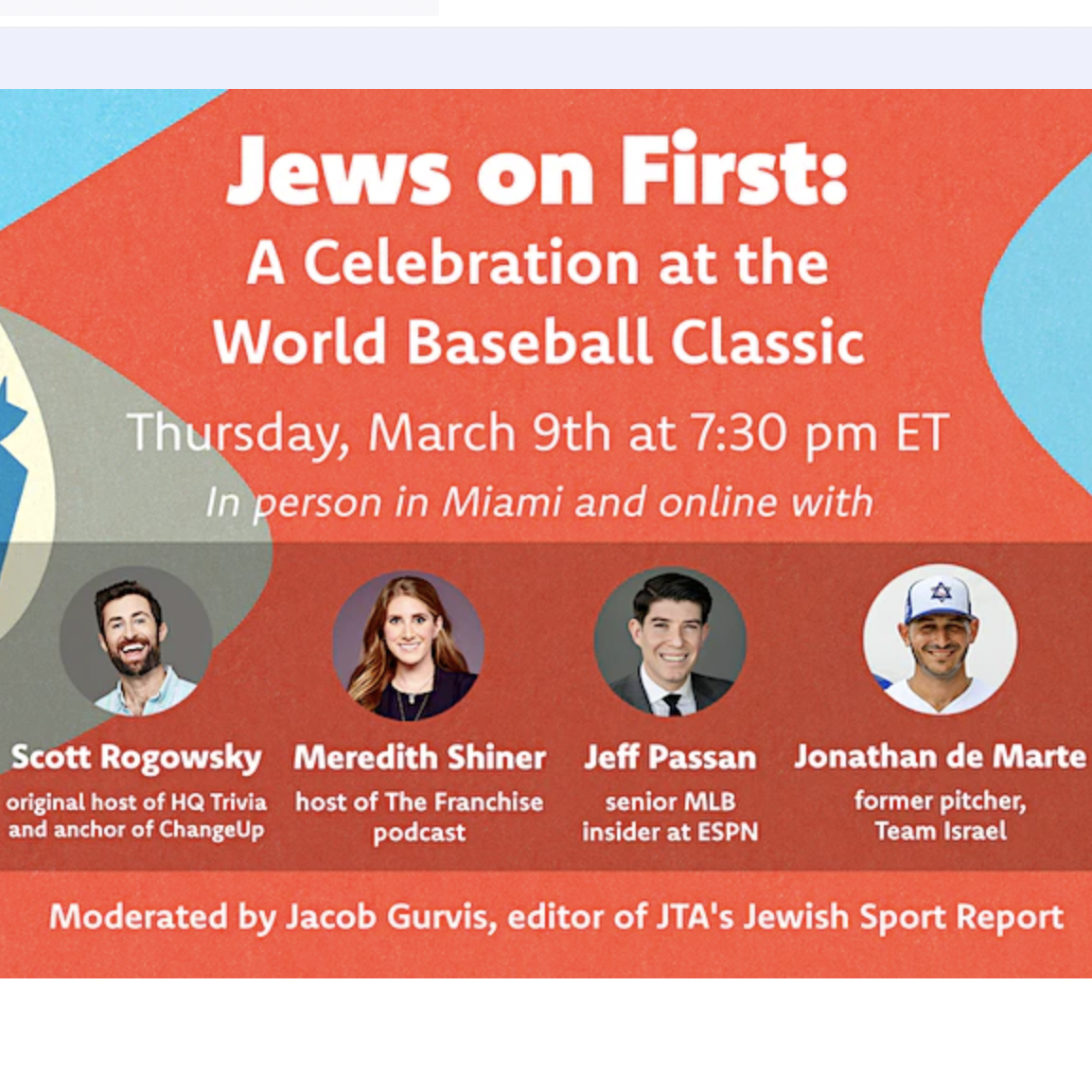 A Celebration at the World Baseball Classic
Celebrate the history of Jews in baseball as some of the MLB's biggest Jewish stars join Team Israel in the 2023 World Baseball Classic.
As the World Baseball Classic opens in Miami, all eyes are on Team Israel, whose surprising run in the 2017 classic inspired Jewish baseball fans across the globe. Now that Team Israel is competing again on the world stage, the Jewish Sport Report, the popular sports newsletter published by the Jewish Telegraphic Agency, and the Miami Beach JCC invite you to discuss all things Jews and baseball, with some of the sport's leading Jewish commentators and players.
In this exciting conversation moderated by the Jewish Sport Report's Jacob Gurvis, you'll hear from:
Jeff Passan, the senior MLB insider at ESPN and New York Times best-selling author of The Arm: Inside the Billion-Dollar Mystery of the Most Valuable Commodity in Sports. He was named 2021 National Sportswriter of the Year by the National Sports Media Association and received the Dan Jenkins Medal for Excellence in Sportswriting in 2022. Before joining ESPN in January 2019, he spent 13 years covering baseball at Yahoo! Sports.
Scott Rogowsky, original host of HQ Trivia and anchor of the live, MLB whip-around show ChangeUp on DAZN. He has also hosted his own, critically-acclaimed late-night talk show Running Late with Scott Rogowsky, two shows on Verizon's Go90 (Start Talkin' produced for Complex Networks and Weird World of Sports produced for Whistle), an ABC Primetime series Would You Fall For That?, and the Wild Cards sports card livestream on NTWRK.
Meredith Shiner, the writer and host of the narrative podcast, "The Franchise: Jews, Sports, and America," a limited series from Tablet Studios exploring the intersections of Jewish culture, sports and identity. A former national political reporter and current political columnist, Meredith's writing has appeared in Rolling Stone, The New Republic, The Daily Beast, Jezebel, Politico, Roll Call, Congressional Quarterly, The Economist, Yahoo News, Yahoo Sports and Deadspin. Since 2021, Meredith has served as an appointed lecturer at the University of Chicago Harris School of Public Policy, in addition to her day job as a communications strategist for clients across the country.
Jonathan de Marte, former pitcher for Team Israel and former Chicago Cubs prospect. Jonathan pitched for Team Israel in the 2019 European Baseball Championship and helped clinch Israel's spot in the 2020 Olympics in Tokyo with his performance at the Africa/Europe 2020 Olympic Qualification tournament in Italy.